Our Flower & Gift Shop
Shop Now
Our Staff
Our staff's commitment to you

Our staff is committed to providing support, compassion, information, and direction as needed to all members of our community, their families, and friends who are dealing with loss and grief.
Bacon Funeral Home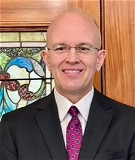 John A. Adamcewicz
Owner/Funeral director / Embalmer
baconfh@icloud.com
John was born in New Britain, CT and graduated from Berlin High School in 1992. He attended Mount Ida College in Boston, MA and graduated from Briarwood College in Southington in 1994 with an Associates in Applied Science.
He has been a licensed funeral director/embalmer for 26 years holding licenses in the states of Connecticut, North Carolina and Mississippi. John has worked for several funeral homes over the years in Connecticut and bought Bacon Funeral Home in Willimantic in January 2019. With his experience in funeral service, he provides valuable knowledge to the families he serves. He is a member of the Windham Chamber of Commerce and is a parishioner of St. Joseph Church and St. Mary Ukrainian Catholic Church both in Willimantic. In his spare time John loves sports and plays the guitar.